Yesshows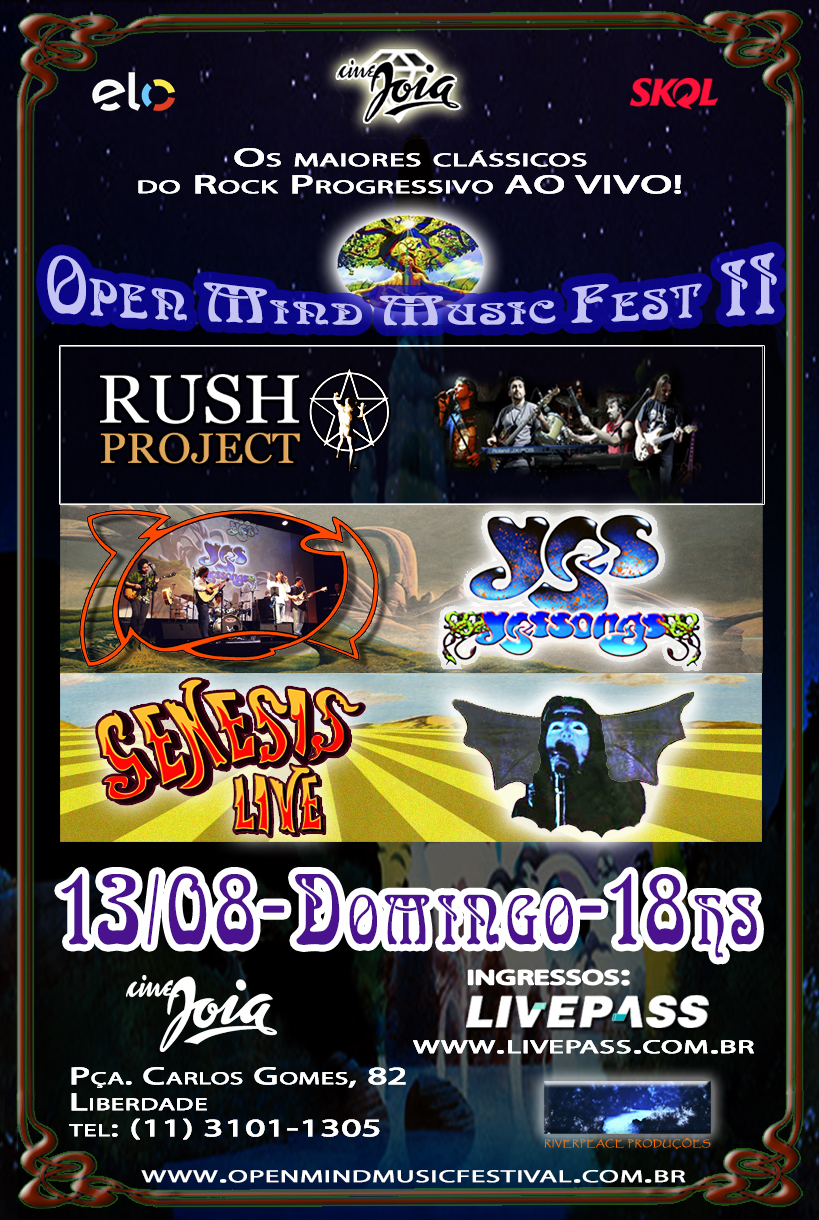 Página do Yessongs no Facebook:
www.facebook.com/Yessongs-905698649455469
YESSONGS no OPEN MIND MUSIC FESTIVAL II:
Uma noite transcendental com tributos aos maiores ícones do Rock Progressivo! As bandas RUSH PROJECT, YESSONGS (o tributo ao Yes favorito de Jon Anderson) e o aguardado retorno do GENESIS LIVE, trarão ao palco do Cine Joia toda a atmosfera musical e viajante dos conjuntos originais.
O Open Mind Festival acontece no dia 13/08, domingo, a partir das 18hs.
O repertório das bandas traz obras-primas, como: Tom Sawyer, The Spirit of Radio, Subdivisions, YYZ, Roundabout, And You and I, Soon, Owner of a Lonely Heart, The Musical Box, Firth of Fifth, Carpet Crawlers, Follow You, Follow Me e muitas outras.
A viagem será completa com o já famoso e impressionante sistema de projeção de imagens do Cine Joia, que promete proporcionar uma imersão ainda mais envolvente e inédita no universo Progressivo!
DATA: 13/08 (domingo) às 18hs
Shows: a partir das 19h
Cine Joia: Praça Carlos Gomes, 82 - Liberdade - São Paulo/SP - Fone: (11) 3101-1305
INGRESSO ÚNICO - SEM CADEIRAS NUMERADAS
INGRESSOS ONLINE:
www.livepass.com.br
INGRESSOS NA BILHETERIA:
Praça Carlos Gomes, 82 - Liberdade - São Paulo/SP - Fone: (11) 3101-1305 de 2ª a 6ª feira, das 10h às 14h e das 15h às 18h. Nos finais de semana a bilheteria só abre em dia de show, 1h antes da abertura oficial da casa.
Antecipados na Bilheteria: R$60,00 (inteira) e R$30,00 (meia)* Ingressos na Bilheteria no dia do Evento: R$70,00 (inteira) e R$35,00 (meia)
* Para todos os eventos no Cine Joia há um lote promocional para as 10 primeiras pessoas que comprarem o ingresso na bilheteria. Os valores variam de R$ 1,00 a R$ 10,00 e cada pessoa só pode comprar 1 ingresso promocional.
SITE OFICIAL DO EVENTO: www.openmindmusicfestival.com.br
Esperamos por All Good People! :)
YESAbraços!
Para ser comunicado sobre a agenda ou contratar shows
do YESSONGS, acesse AND YOU & US – CONTATO